Fluff-O-Rama!
Small versions of pictures from this weekend:

My cousin's son, Jaylen, helping Eddie with some presents.



Eddie with his favorite present -- the V-tech ABC apple thing that I already want to destroy. LOL!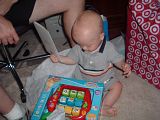 Eddie Wanting to open his presents.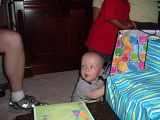 Eddie with Dad's wife after getting a taste of frosting.



Me and Eddie.



Eddie playing wiht his tambourine. I exchanged one of the walkers for a drum kit that has a tambourine, bells, a marakah (sp??) and drums. WHAT was I thinking?